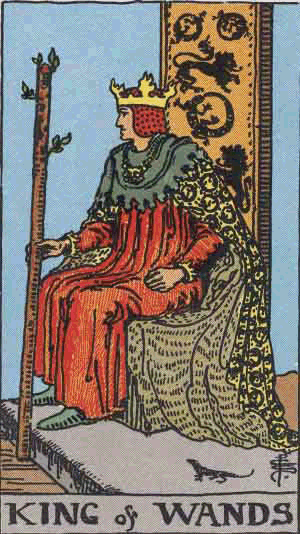 THE KING OF THE WANDS
Description: The King of Wands shows a king sitting on a throne. The throne is adorned with images of lions and lizards. He wears a mighty cloak with sewn-on lizards. His suit is red and his coat yellow. In his hand he holds a stick and, he looks away from the viewer. A lizard is seen at his feet. The king personifies the pulsating and life-giving qualities of the ram.
The card also symbolizes courage, warmth, enthusiasm and confidence. He inspires people around him to go after their dreams and try what immediately seems impossible.
Interpretation: The King of Wands indicates that qualities such as imagination, energy and zest for life enter your life and are clearly present. Just as reptiles change him from time to time, the king's cloak with sewn-on salamanders shows that it is possible to leave old limitations behind and be open to changes in both consciousness and physical existence. Thus, you will get in touch with your optimistic and visionary side and come to make an impact.
When you draw this card, it is a sign of evolution and change on a deep inner level; old perceptions are thrown aside, and all obstacles or blockages can be cleared of the way, and new expanded insights can emerge. You will pursue your visions with great zeal and energy.
Other words that characterize The King of Wands are: humor, generosity, optimism, daring, vision, vitality and a believer.
Astrology: The map is associated with the sign Aries.
Affirmation: I work purposefully according to my visions. I overcome obstacles with ease.
Visconti
Yale University

Italiensk tarotsæt
Lo Scarabeo

Tarot of Marseille
Fournier

Oswald Wirth
US Games
Above are four very different versions of King of Wands.
Cary-YaleVisconti tarot cards from around the 1420s are mainly designed to be beautiful and shows friends and family. The beautiful old Italian tarot set also has its emphasis on the artistic expression. Marseille tarot cards are simple as they were made so they are suitable for wood printing.
Oswald Wirth diminishes the Christian symbols and instead draws inspiration from the occult, through writings especially by Éliphas Lévi. The occult came from here on to influence how tarot cards were illustrated.
Most famous is the Rider-Waite tarot card with lots of symbolism from Egypt, the Jewish Kabbalah, astrology, alchemy and Freemasonry. When you thus interpret King of Wands you have different options. It is advisable to start with the illustrations we have from Rider-Waite as they contain a lot of information in their imagery.