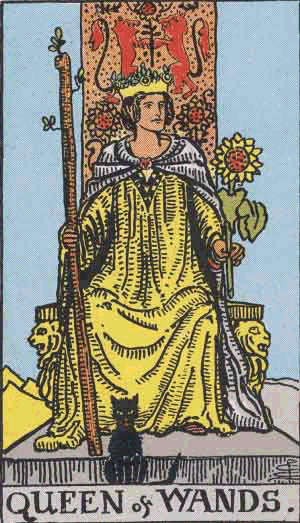 THE QUEEN OF THE WANDS
Description: The Queen of Wands shows a woman dressed in yellow and with a crown sitting on a throne. She is surrounded by lions: two lions are embroidered into the rug behind her, and two others adorn the throne. In one hand she holds a stick, in the other a sunflower. In front of her on the floor sits a black cat, looking at the viewer of the card. Behind her are three yellow hilltops.
The card symbolizes strength and mastery over, among other things, self-knowledge. At the same time, the card stands for energy, cleverness and strong will.
Interpretation: The Queen of Wands is a woman who has worked with herself and made great strides. She is in touch with her feelings and her passions, and shows them openly and honestly. She has great self-insight and great compassion for all unredeemed beings. The card therefore symbolizes qualities such as loyalty, faithfulness, diligence and creative talents.
The way she holds the stick indicates that we must let our own self-knowledge propagate into the ground, share it with others, and let our self-realization express itself in our everyday lives. When you draw this card, it is a sign that you are nurturing a desire for more self-knowledge and understanding. Respect this wish.
Other words that characterize the Queen of Wands are: warmth, compassion, independence, positive, generous, passion, motherly feelings, heart, home, magic, dominance and love.
Astrology: The map is associated with the sign Pisces. The fish stands for a floating pursuit.
Affirmation: When I show my feelings, I'm beautiful. I trust my self-discovery process.
Visconti
Yale University

Italiensk tarotsæt
Lo Scarabeo

Tarot of Marseille
Fournier

Oswald Wirth
US Games
Above are four very different versions of Queen of Wands.
Cary-Yale Visconti tarot cards from around the 1420s are mainly designed to be beautiful and shows friends and family. The beautiful old Italian tarot set also has its emphasis on the artistic expression. Marseille tarot cards are simple as they were made so they are suitable for wood printing.
Oswald Wirth diminishes the Christian symbols and instead draws inspiration from the occult, through writings especially by Éliphas Lévi. The occult came from here on to influence how tarot cards were illustrated.
Most famous is the Rider-Waite tarot card with lots of symbolism from Egypt, the Jewish Kabbalah, astrology, alchemy and Freemasonry. When you thus interpret Queen of Wands you have different options. It is advisable to start with the illustrations we have from Rider-Waite as they contain a lot of information in their imagery.