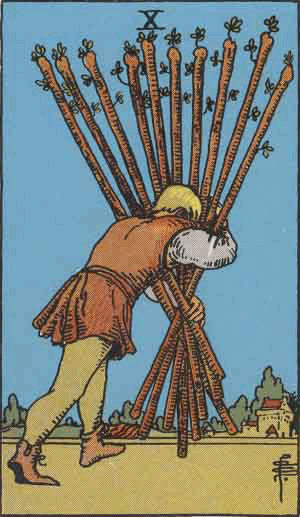 10 WANDS
Description: Ten Wands shows a man effortlessly carrying two sticks across a square. He carries the ten sticks in front of him, his back and head are bent forward. You do not see his face, but rather sense the difficulty he has in carrying the sticks.
Ten Wands indicates that you have taken on too much, in the form of responsibility or work, which has resulted in everything you had built up and worked to achieve being destroyed. It symbolizes a hopelessness and dissatisfaction with the circumstances as they are here and now.
Interpretation: Ten Wands stands for oppression in the form of repressed emotions, restrained energy and is an invitation for you to acknowledge this and set yourself free. It could very well be that you are overburdened in some way. Allow yourself to follow your feelings and impulses without being hindered by others' perceptions of right and wrong.
Be aware of the pitfalls associated with taking on too much or ignoring your limits what you are basically willing to do. In other words: learn the art of restraint.
Try looking back ten years to see if the same pattern of retention was there then as well. That you draw this card indicates a determination to free yourself from this self-suppression within the next ten weeks to ten months.
Other words that characterize Ten Wands are: heavy burdens, overburdened, unhealthy attitude, self-blame, depression, illness, isolation and aggression.
Number: For the next ten weeks or months, you will find it easy to break free from the boundaries or limitations you have set for yourself and your expression, which are fundamentally negative for you.
Astrology: Saturn in Sagittarius. Saturn blocks or restricts Sagittarius' impulse to communicate and move forward.
Affirmation: I express my vitality and vitality. With ease, I free myself from obstacles. I give my energies free rein.
Tarot of Marseille
Fournier

Italien tarot
Lo Scarabeo