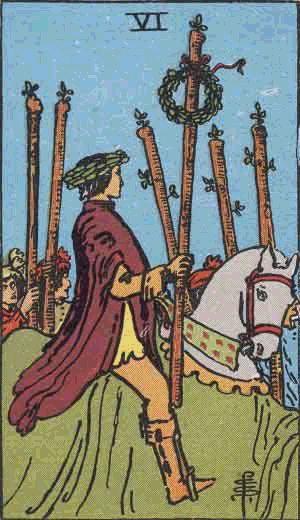 6 WANDS
Description: Six Wands shows a man sitting on a horse. He sits upright and proud and holds a stick in which a laurel wreath is tied at the top. This is a sign of victory, and the man is probably the victor. His horse has a green cloak over him, which symbolizes the hope and luck the man has / has had with him. The man is crowned with a laurel wreath.
In the background are a few people who also seem to accompany and celebrate and rejoice in the event. It's probably a procession or victory march. The card symbolizes success and optimism and a time marked by strength and confidence.
Interpretation: Six Wands stands for victory and indicates that when we have searched long enough, when we have made all possible efforts, then comes the sudden breakthrough and the victory. So what you can learn here is that effort and self-discipline can pay off. The card tells you to carry out what you have planned. There are clear indications of success and great performance. You have completed a project and can now triumph and rejoice.
The card will also be able to indicate that your victory has been recognized and that it can therefore lead to extended area of ​​responsibility and / or promotion. When you draw this card, it is a clear sign that you are facing a significant breakthrough in terms of creativity, insight or perception – which can be expressed both at work and at home.
Other words that describe Six Wands are: progress, expansion, good times, renewal, breakthroughs, leadership, optimism, clarity, happiness, triumph, and successful completion of a project.
Number: Six is ​​the number for balance and harmony. In the next six weeks or months, there are good opportunities to experience some kind of victory in terms of your creative expressions.
Astrology: Jupiter in Leo. We experience abundance and joy (Jupiter) by having expressed ourselves creatively (Leo).
Affirmation: I'm successful and I enjoy it. When I win, it benefits all of humanity.
Tarot of Marseille
Fournier

Italiensk tarotsæt
Lo Scarabeo