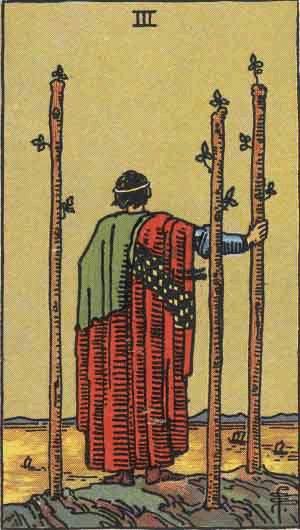 Three Wands
Description: Three Wands shows a man standing with his back to the viewer. Three wands stand around him, and he holds and backs one. He looks you over an orange sea, on which a few ships sail.
The card symbolizes an idea that has been born or a project that has been started. What is needed now is to work on the project if it is to be fully manifested. It requires energy and effort to materialize and achieve the goal.
Interpretation: The orange color that characterizes the card indicates that you are full of life energy and vitality. But despite the external dynamics, the internal dynamics remain intact and clear. Body, mind and soul are in harmony.
When you draw this card, it is a sign that honesty and integrity are at the forefront. There is a deep spiritual desire to maintain your integrity at all levels. Respect this desire.
But as indicated earlier, the map also indicates that you are on your way to achieving your goal, but that you are only on the road and there is still much to be done. Therefore, there may be a feeling of pain or disappointment because the execution has not been reached. But it is a positive card and any negative thoughts and feelings should not let you lose sight of the goal.
Keywords: Other words that characterize Three Wands are: integrity, responsibility, virtue, entrepreneur and a wait-and-see attitude.
Numbers: In the next three weeks or months, it will be worthwhile to keep in mind the energy of this card.
Astrology: The Sun in Aries. Your dynamic energy (the Sun) moves in new directions where integrity is maintained. It says something that you must first move in new directions when you can do it in integrity – where you do what you say you do and you can trust your word.
Affirmation: I am in my own silence. I'm on my way and all is well. I act based on what is true of my self.
Tarot of Marseille
Fournier

Italien tarot set
Lo Scarabeo