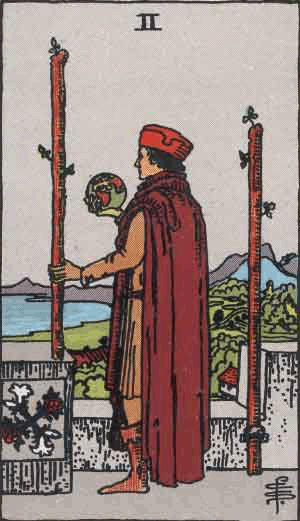 Two Wands
Description: Two Wands show a man standing on his castle looking out over the sea and a lush hilly landscape. In his right hand he holds a globe and in his left he sticks to a cane.
This cane symbolizes what he has already achieved. Another cane is attached to the wall by his side, symbolizing what is possible to achieve. The globe symbolizes visions, the future and opportunities.
The man has achieved what he wanted so far. Now he has to move on into the world waiting for him. He must move on from his standstill and find new goals. The roses and lilies on the wall symbolize rebirth and light.
Interpretation: Two Wands shows that there is control over the situation. You are the master of your life. You are restrained in the sense that you have dominion over yourself. You have managed to unite different aspects within yourself, and out of this association enables balance and new solutions that change and expand your own perspectives.
But at the same time, the card is a sign that you are in a choice situation and there may be several different creative options. You have several different ideas for how to proceed.
Whatever you choose, you will have to throw yourself into the choice of commitment and hard work. But the rewards are coming and you will see that your work is well worth it.
When you draw this card, it is a sign of great spiritual power and the urge to begin something new, to be a pioneer, innovator and innovator. There are talents in the form of dynamic energy and leadership skills that you can express.
Keywords: Other words that describe Two Wands are: big plans, balance, indecision, waiting, formulating a new purpose, goal or project.
Number: In the next two weeks or months, you will find that, based on your current sense of balance and dominance, you have the opportunity to move in new directions.
Astrology: Mars in Aries. Vitality (Mars) manifests itself in the area of ​​exploration and innovation (Aries).
Affirmation: I make creative choices. I am centered and in harmony when making my choices.
Tarot of Marseille
Fournier

Italien tarot set
Lo Scarabeo