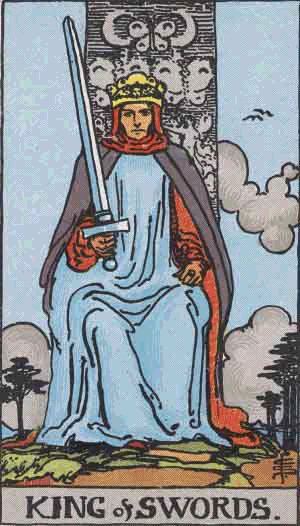 King of Swords
Description: The King of Swords shows a man sitting on a throne with a sword in his hand. He has a coat on and a crown on his head. The landscape around him is hilly and you can see some trees. He sits on an elevation or mountain peak in the countryside. He carries his sword as if prepared for battle. He is depicted as a powerful monarch.
The card symbolizes an authoritative figure with a sense of what is true and fair. He uses his sword, his power energetically, as a clear and visible force or threat. He represents the authoritative father, the judge and the professor. He symbolizes institutional power.
Interpretation: The card has to do with strong convictions, strong determination and a strong and determined code of ethics – this is something you will need yourself now or in the near future. Or even the qualities you want to find are present in someone you meet soon.
In addition, the card stands for honesty and justice – qualities that mean you will deal with what is fair in life and what creates equality in life.
The map indicates that you are in a good position to make new plans, set goals and bring them to fruition. You have the ability to target your mental activity, an ability to get ideas and to concentrate.
When you draw this card, it is a sign that there are passionate thoughts on reaching a goal that your whole being desires on every level (ie bodily, emotional, mental and spiritual) to move forward and achieve success with a given task. So what are you waiting for – Throw yourself into it!
Keywords: Other descriptions denoting the King of Swords are: authority, focus, will, intention, institutions, selfishness and tyranny.
Astrology: The card is associated with the astrological signs of the Aquarius, Libra and Gemini.
Affirmation: I know what I want. I steer towards my goal.
Visconti
Yale University

Italien tarot set
Lo Scarabeo

Tarot of Marseille
Fournier

Oswald Wirth
US Games
Above are four very different versions of King of Swords | Re di Spade.
Cary-Yale Visconti tarot cards from around the 1420s are mainly designed to be beautiful and shows friends and family. The beautiful old Italian tarot set also has its emphasis on the artistic expression. Marseille tarot cards are simple as they were made so they are suitable for wood printing.
Oswald Wirth diminishes the Christian symbols and instead draws inspiration from the occult, through writings especially by Éliphas Lévi. The occult came from here on to influence how tarot cards were illustrated.
Most famous is the Rider-Waite tarot card with lots of symbolism from Egypt, the Jewish Kabbalah, astrology, alchemy and Freemasonry. When you thus interpret King of Swords | Re di Spade you have different options. It is advisable to start with the illustrations we have from Rider-Waite as they contain a lot of information in their imagery.