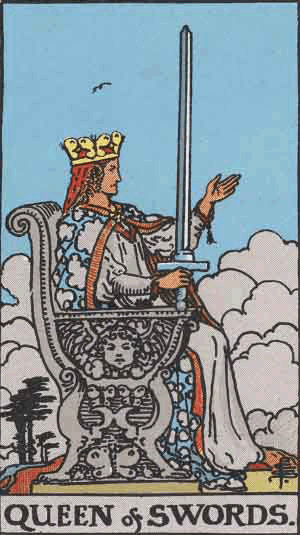 THE QUEEN OF SWORDS
Description: The Queen of Swords shows a woman – the queen – sitting on her beautifully decorated throne in nature. In one hand she holds a sword, the other she has lifted as if to greet someone or something. Her face is rigid and her gaze firm.
On her head she wears a crown, around her shoulders a robe with sewn clouds. The robe and the throne connect her to the air element. The card symbolizes the proud strong mother. The Queen is determined and determined.
Interpretation: The Queen of Swords symbolizes the justice-seeking intellect. It represents an experience of grief and loneliness over old problems.
The lesson here probably lies in learning to bear one's sorrows, to be with one's sorrows, and to deal with them finding strength and wisdom in past experiences. It shows us something about how to best meet concerns and painful memories with courage, patience and acceptance.
The card stands for the masks we wear, the roles and behaviors we have, on the one hand, protect and hide us, and on the other hand also keep us separate from ourselves and others. The card also points out that it may be time to look at the values ​​of the roles, masks and behaviors you have. This can cause painful insights, but the clarity you achieve will set you free.
Keywords Other words that characterize the Queen of Swords are: objective thinking, objective clarity, counsel, and wisdom.
Affirmation: I find peace in my being. I am with my past, present and future.
Visconti
Yale University

Italien tarot set
Lo Scarabeo

Tarot of Marseille
Fournier

Oswald Wirth
US Games
Above are four very different versions of Queen of Swords | Regina di Spade.
Cary-Yale Visconti tarot cards from around the 1420s are mainly designed to be beautiful and shows friends and family. The beautiful old Italian tarot set also has its emphasis on the artistic expression. Marseille tarot cards are simple as they were made so they are suitable for wood printing.
Oswald Wirth diminishes the Christian symbols and instead draws inspiration from the occult, through writings especially by Éliphas Lévi. The occult came from here on to influence how tarot cards were illustrated.
Most famous is the Rider-Waite tarot card with lots of symbolism from Egypt, the Jewish Kabbalah, astrology, alchemy and Freemasonry. When you thus interpret Queen of Swords | Regina di Spade you have different options. It is advisable to start with the illustrations we have from Rider-Waite as they contain a lot of information in their imagery.