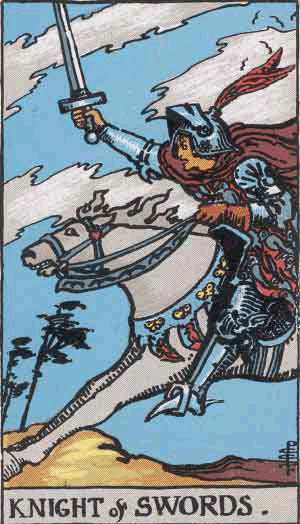 THE KNIGHT OF THE SWORDS
Description: The card shows a knight in armor on his horse in full gallop. The knight holds his sword raised above his head as a sign that he is ready for battle or he is in battle. His face expresses anger and his attitude aggressiveness.
The landscape is golden and the clouds are thankful and threatening. The card symbolizes the warrior. He possesses sheer aggression, the urge to attack, and he is determined to fight – either to kill or to be killed.
Interpretation: The card symbolizes intense activity and aggressiveness in the intellect. This can be shown by the fact that you struggle extra hard for something, you have an unyielding firmness, stubbornness, and that you probably too by pushing yourself too hard.
The card symbolizes determination in a particular case or situation. It symbolizes the skill of managing practical tasks. It can mean that you are in an uproar over something and do not want to be held back or restricted.
This rebellion against, for example, oppression stems from a longing to believe in oneself. When you pull this card, it is a sign that your mood swings are out of control and they are blurring your mental clarity. It is necessary to fight the mood swings and focus on common sense and practical thinking.
However, the card can also mean being able to fight mood swings and helping others learn how to strengthen their practical sensible thinking to control their moods.
Affirmation: I am true to my ideals. I am positive and creative in my trade.
Visconti
Yale University

Italien tarot set
Lo Scarabeo

Tarot of Marseille
Fournier

Oswald Wirth
US Games
Above are four very different versions of The Knight of Swords.
Cary-Yale Visconti tarot cards from around the 1420s are mainly designed to be beautiful and shows friends and family. The beautiful old Italian tarot set also has its emphasis on the artistic expression. Marseille tarot cards are simple as they were made so they are suitable for wood printing.
Oswald Wirth diminishes the Christian symbols and instead draws inspiration from the occult, through writings especially by Éliphas Lévi. The occult came from here on to influence how tarot cards were illustrated.
Most famous is the Rider-Waite tarot card with lots of symbolism from Egypt, the Jewish Kabbalah, astrology, alchemy and Freemasonry. When you thus interpret The Knight of Swords you have different options. It is advisable to start with the illustrations we have from Rider-Waite as they contain a lot of information in their imagery.