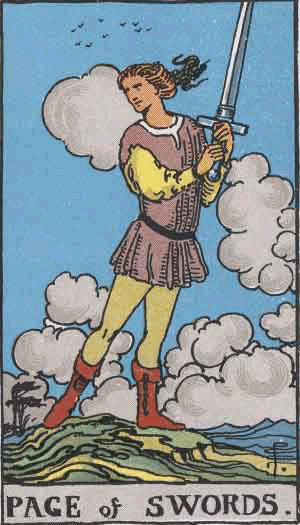 The Page of Swords
Description: The Page of Swords shows a young man standing on a ridge with a sword in his hands. In the background you can see mountains, big airy clouds and a bunch of birds. The wind blows in the trees and in his hair.
The card symbolizes the presence of a young mind. However, the man in the picture holds the potential for innovative thinking. He represents the beginning of something new, and this young man is possibly ready to begin another journey.
The sword he wears indicates his intellectual and mental ability. This is an ability he is still learning about. He has not yet tested everything, but is captivated by the intellectual in connection with new ideas, ways of thinking, and when it comes to mastering the power of thought.
Interpretation: The card The Page of Swords symbolizes your ability to get ideas and plan things that have something to do with practicality. You will be able to apply your ideas in your life. It indicates that you are with someone or in a situation that is not yet fully developed.
You are in a beginning phase where there are so many possibilities in the area of ​​thinking. The card also symbolizes a person who is determined to cut through restrictions or obstacles that may block mental creativity.
When you draw this card, it is a sign that you need to cut through everything that limits your ability to have free mental thinking. You should purposefully seek to unleash your creative intuitive mindset.
Keywords: Other words that characterize the Page of Swords are: constructive thinking, from words to action, manifested thoughts and clarity.
Affirmation: I get rid of what binds me. I am free to do the mental physically.
Visconti
Yale University

Italien tarot set
Lo Scarabeo

Tarot of Marseille
Fournier

Oswald Wirth
US Games
Above are four very different versions of The Page of Swords.
Cary-Yale Visconti tarot cards from around the 1420s are mainly designed to be beautiful and shows friends and family. The beautiful old Italian tarot set also has its emphasis on the artistic expression. Marseille tarot cards are simple as they were made so they are suitable for wood printing.
Oswald Wirth diminishes the Christian symbols and instead draws inspiration from the occult, through writings especially by Éliphas Lévi. The occult came from here on to influence how tarot cards were illustrated.
Most famous is the Rider-Waite tarot card with lots of symbolism from Egypt, the Jewish Kabbalah, astrology, alchemy and Freemasonry. When you thus interpret The Page of Swords you have different options. It is advisable to start with the illustrations we have from Rider-Waite as they contain a lot of information in their imagery.