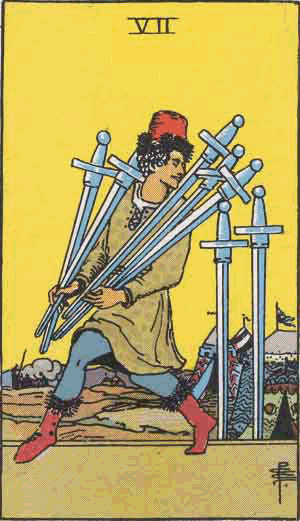 Seven Swords
Description: Seven Swords shows a man gently sliding away from a cluster of tents, carrying five swords. Behind him are two other swords stuck in the ground. He looks back over his shoulder as if to make sure no one has noticed or followed him.
The situation is obviously dangerous for him. He tries to sneak out of a conflict, but he doesn't get it all, as two swords are left in the ground behind him. On the card there is a mood of cuteness and cunning. The card indicates that in a particular situation evasion maneuvers are used rather than directly confronting the situation.
Interpretation: The card indicates that you are trying to sneak away or avoid a situation that is perceived as unpleasant. One has created an experience of hopelessness or helplessness in oneself. It is believed that you have escaped well from your way of dealing with a conflict, but there are things you have not realized.
You have been manipulated into believing that an effort is of no use or that there are too many obstacles in the way of doing a job. But through insight, the removal of illusions, one can put aside worries and negative thoughts and go after one's goals and dreams.
There are lilies and cunning in the waters. Cheat because you or someone else is trying to get rid of the responsibility for a dishonorable deed, and cunning because it shows that an enemy can be hit by finding his tenderest place.
The card points out that your fears have nothing to do with reality. Wake up and acknowledge what it really is that you fear or acknowledge how it is that you are in fact stretching legs for yourself.
Keywords: Other words that characterize Seven Swords are: constriction, stiffness, laziness, laziness, indifference, sabotage, negative thinking and limitations.
Number: Over the next seven weeks or months, it will be important for you to spot the areas of your life where you sabotage or lie to yourself. When you let go of this behavior, you will focus on your desires and visions.
Astrology: Sun and Moon in Aquarius. The negative aspect is that you subconsciously sabotage yourself, cheat yourself.
Affirmation: I turn my negative expectations into positive ones. I confront reality. I have all the means and means to achieve what I want from the heart.
Tarot of Marseille
Fournier

Italien tarot set
Lo Scarabeo