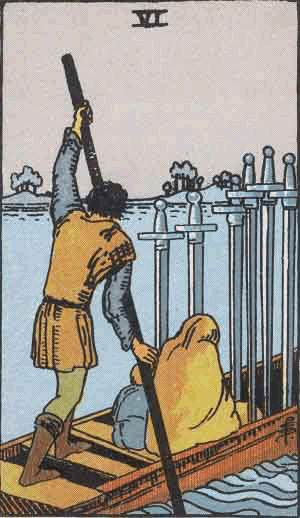 Six Swords
Description: Six Swords shows a man getting off in a boat. With as passengers is what could look like a woman and a child. Six swords stand upright, tucked into the boat. In the background we see the breadth. It might look like they're sailing from some upset water to the right to some quiet water to the left.
The mood of the card is a mixture of achieved harmony and grief over the past. It seems like someone is saying goodbye or something. The woman on the boat seems to have made off with her situation and has probably surrendered to fate and hopes for a better future.
Interpretation: That the woman on the card seems to have accepted her limitations. will be the first step towards understanding them. In time, one will thus be able to accommodate old grief and new difficulties better.
The card indicates that you are moving from a problematic situation or time to something more satisfactory. The move can happen in several ways; either physically from a country or city or from some environment or from a person.
It can also be about an inner journey where, for example, you leave old negative thought forms, and replace them with new more positive thoughts and thus an increased knowledge. A brighter and easier time is imminent.
There may also be an invisible solution to a problem. The card indicates that different ideas and ways of thinking can be brought together in one whole. Your ability to perceive things in a holistic way should be utilized for a solution and this should be communicated out.
When you draw this card, it is a sign that you possess the ability for logical, rational, scientific thinking to be used in communication, on a topic that is new and needs to be expressed in a clear, objective manner.
Keywords: Other words that characterize Six Swords are: Travel into an uncertain future, purposeful intellect, the holistic, objective intellect, old sorrows, or a difficult path to enter.
Number: For the next six weeks or months, it will be important for you to look at things realistically and objectively. New ideas must also be communicated objectively.
Astrology: Mercury in Aquarius. Originality and innovation (Aquarius) communicated (Mercury) in a peaceful, constructive and objective way.
Affirmation: I enter my future with confidence. I take light and effortless towards the new that comes to me. I'm ready to let go of what I don't need anymore.
Tarot of Marseille
Fournier

Italien tarot set
Lo Scarabeo