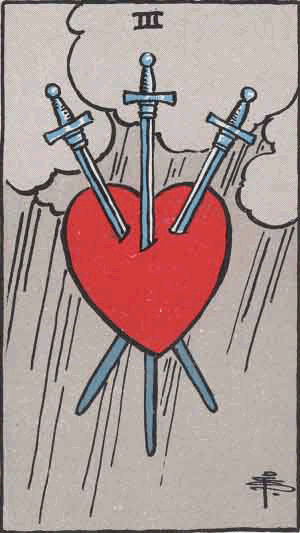 3 SWORDS
Description: Three Swords show a big red heart, pierced by three swords. Above the heart hovers a dark gray cloud from which come rainbows. That the heart is pierced by swords symbolizes sorrow, and the rain symbolizes a stormy situation or period.
The card also symbolizes pain; a heart has been broken, opportunities, conditions or projects that have been affected by a situation that causes grief or pain. Although the picture is unpleasant, one must know that the redemption lies in transcending the pain. Insight and understanding can come from the current situation, which helps to transcend the pain.
Interpretation: The card must be interpreted as having a sadness or pain in our heart that we must experience before we can experience the heart's qualities again. Although the image on the card does not look particularly cheerful, the necessary cleanup it requires will lead to personal development, healing through pain, new perspectives and visions.
It may be that something must be destroyed in order for something else to occur.
It may also be that it will cost tears. The card is an invitation to make clear and unequivocal decisions. In what areas this should be done can be clarified by looking at what decisions it is difficult for you to make or acknowledge.
You must overcome your worries and anxieties, let go of your own negative energy that binds you to the pain. When you draw this card, it is a sign that some old grief is affecting your current thinking and that there is a deep desire to be released from this thinking for the next three weeks to three months in a step-by-step process.
Keywords: Other words describing the Three Swords are: a broken heart, doubt, obscurity, lethargy, pain, disagreement, the dark hour just before dawn, tears, cleansing and affliction.
Number: The next three weeks or months will be especially good at getting rid of old painful thought patterns. It will be beneficial to make new decisions about focus and values.
Astrology: Saturn in Libra. Here, the focus is that if we expand our limited view of the past (Saturn) and are a little more flexible and holistic, it will bring more balance and experience of equilibrium in our mind (Libra).
Affirmation: I feel my pain and rise above it. I transcend the pain. Each problem contains its own solution.
Tarot of Marseille
Fournier

Italien tarot set
Lo Scarabeo