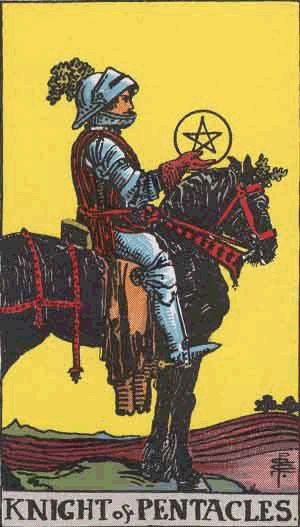 KNIGHT OF PENTACLES
Description: The map shows a young knight sitting on his horse. The knight wears full armor and is ready for battle, but prefers to sit still and look at the coin, which he holds in his one hand. He is on a hilltop overlooking a hilly landscape.
The card symbolizes the ability to be thoughtful or concentrated on something. There may even be a contemplative or meditative attitude present.
Interpretation: The card symbolizes that you are in operation, you are diligent and at the same time have a discerning eye for detail. It also indicates that at this time or in your current project, you are serious, trustworthy, and serious and careful about any task that presents itself.
When you draw this card, it is a sign that what is in focus is physical activity, construction, or sports. It shows a steely determination to move forward with fewer blockages or obstacles.
It also shows talent for practical thinking. Your quest and pursuit goes – or should go – to build a new world for the self that will be more fruitful and full of abundance with less obstacles. You should also go for developing endurance and diligence skills. Find them within you or seek out a suitable role model who will be able to inspire you.
Other words that could describe the Knight of the Pentacles are: focus on earthly values, progress, stability, luck, responsibility, stubbornness, hard work and attention to detail.
Affirmation: I work with a focus on the important. I see that the whole and the detail are one and the same thing.
Visconti
Yale University

Italien tarotset
Lo Scarabeo

Tarot of Marseille
Fournier

Oswald Wirth
US Games
Above are four very different versions of Knight of Pentacles.
Cary-Yale Visconti tarot cards from around the 1420s are mainly designed to be beautiful and shows friends and family. The beautiful old Italian tarot set also has its emphasis on the artistic expression. Marseille tarot cards are simple as they were made so they are suitable for wood printing.
Oswald Wirth diminishes the Christian symbols and instead draws inspiration from the occult, through writings especially by Éliphas Lévi. The occult came from here on to influence how tarot cards were illustrated.
Most famous is the Rider-Waite tarot card with lots of symbolism from Egypt, the Jewish Kabbalah, astrology, alchemy and Freemasonry. When you thus interpret Knight of Pentacles you have different options. It is advisable to start with the illustrations we have from Rider-Waite as they contain a lot of information in their imagery.