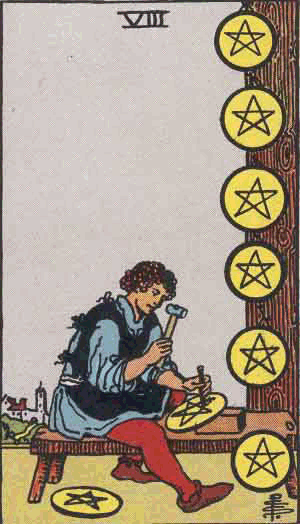 8 PENTACLES
Description: Eight Pentacles show a worker sitting cross-legged on a bench, working energetically to mint the coins. In his hand he has a hammer and a chisel. The coins he has already finished hang on a pole in front of him. The man is in full swing to finish the last coins.
The card symbolizes an enthusiastic period in which you as an apprentice or student want to commit yourself to and practice skills in a new form of study or work.
This enthusiasm or period can occur at any time in life. The card represents a person who has either changed direction in life, or who has now started working hard for what he wants.
Interpretation: The card 8 Pentacles shows that the time is right now if you want to devote yourself to studies or work on a specific project. It could be developing abilities or talents in a particular direction or working towards a dream and realizing your potential in a particular direction. The card tells you that what strives to unfold in you is right and should bring you wealth and joy.
However, be careful and first carefully examine whether you have enough peace of mind as well as physical and financial surplus to throw yourself into the new ventures. The card 8 Pentacles stands for care and also tells you that you do not need to speed anything up.
Everything comes to you and unfolds at the right time and place. The card tells you that you will find fulfillment and satisfaction by devoting yourself to work and by immersing yourself in the work as much as possible. If you do not already see work as a game, it's time to learn it and practice it.
Other words that characterize eight Pentacles are: work, perseverance, unfoldment, care, consideration, working methods, the path to the goal, self-discipline, meditation during work and the student.
Numbers: For the next eight weeks or months, you should focus. The time now is good if you want to devote yourself to studies or work on a specific project. Success awaits if you are persistent and focused.
Affirmation: I unfold myself through work. I find fulfillment through my work. I give myself at work.
Tarot of Marseille
Fournier

Italien tarotset
Lo Scarabeo