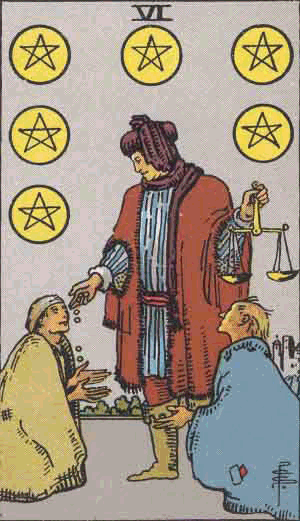 6 PENTACLES
Description: Six Pentacles show a wealthy man giving coins to two beggars with one hand and holding a weight bowl with his other hand. Two types of roles have thus been outlined that one can play in life – the giving and the receiving.
Given and received are necessary between people, and in the exchange there can be a lot at stake: is it a power relationship, or is it a healthy human exchange.
What is exchanged can be of a material, emotional or energetic nature. It is also about knowing that giving of oneself has a different character than giving of one's material wealth.
Interpretation: The card symbolizes energy exchanges between people, whether material, emotional or spiritual. The map shows that you probably have a stable economy. There is a balance between income and expenses. Indeed, one can also afford to give a gift to others in need.
As a side benefit, you appear generous and sympathetic. At the same time, the card says that you should be open to your success and accept it gratefully and modestly. Be open to the experience of being successful by producing something that motivates and inspires you deeply.
The card can also indicate that you have a deep desire to achieve success in some external project. You achieve this success by being willing to take chances, be committed and trust your intuition.
Other words that characterize six Pentacles are: gifts, luck in games, goodwill, practical help, generosity, an unexpected gift in the form of money, spiritual wealth, hierarchy, and power games.
Numbers: For the next six weeks or months, you should celebrate what has actually succeeded. Allow yourself something that motivates and inspires you deeply. This will provide fertile ground for more success.
Affirmation: I manage my wealth in the, for the universe, best way. I give and receive with wisdom.
Tarot of Marseille
Fournier

Italien tarotset
Lo Scarabeo