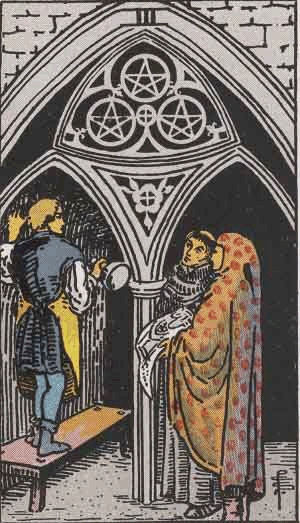 3 PENTACLES
Description: Three Pentacles show three men in a church room. One, a worker, perhaps a sculptor, stands on a bench and works, holding a goblet in his hand. A monk and a fool stand and look in the drawings for the building. Above them are carved three coins in a triangle.
The card symbolizes both that a project – a building is growing, but also symbolizes your own personal growth. The card indicates that creativity and love are connected and that you realize yourself and become more satisfied by putting all your existence and energy into the work.
Interpretation: The card symbolizes that the path to growth and expansion goes through sustained work. This indicates that there is still a lot of work to be done on the work or project you are working on. When you draw the card Three Pentacles, it is a sign that you are probably determined to stick to and complete your project, no matter how difficult or frustrating the task may be.
It is necessary that you give everything you have in you. But do it, because it pays off. However, make clear what exactly you want out of your efforts to work focused and efficient at the same time.
At the same time, the card also suggests that, by meditatively relating to your activities, you will be able to feel a satisfaction in that when you work, you will be fulfilled by the action itself. It will be accompanied by an experience of wholeness and devotion, which can also be described as the flow you feel when you work.
Other words that will characterize the card Three Pentacles are: work as meditation, success, self-realization through work, hard work, sustained effort, workhorse, craftsman and designer.
Number: For the next three weeks or months, you should stick to and complete the work or project you are working on. The path to growth and expansion goes through sustained work.
Affirmation: I give my all to work. I experience meaningfulness in the work. I am meditative in my work.
Tarot of Marseille
Fournier

Italiensk tarotsæt
Lo Scarabeo