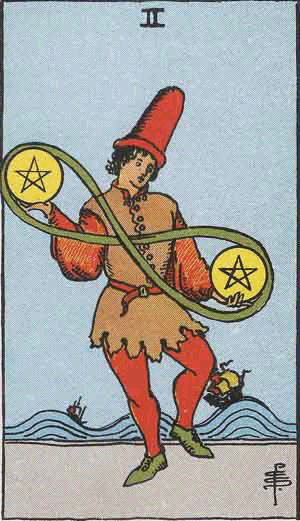 2 PENTACLES
Description: Two Pentacles show a juggler juggling two coins and a large horizontal octagon – the infinity symbol. Behind him you see the sea and two ships sailing on some high waves. The map illustrates how the man plays with and relates to different possibilities. He seems to be indecisive and has accepted this fully.
The card symbolizes a state in which one relates considerately to the changes of life. And does not allow itself to be brought out of the socket itself, but instead rides on the turmoil of the sea, the emotions, like a cork and follows the movements of the waves / emotions.
Interpretation: The card symbolizes a time of acceptance of the changeability of things, an acceptance that things come and go in life, and how one can be open to any new situation. The change encompasses all areas of life. Two Pentacles stand for interaction and change. It shows a time of movement and a need to work with changing energies and at a changing pace.
The change may well be in money matters, the situation may also concern your state of mind. The card can also mean that you have the ability to handle several things at once. But in any case, the changes enrich you. Therefore, dedicate yourself confidently to the changes and your life will be enriched.
Other words that can describe Two Pentacles are: life artist, indecision, observer of own feelings and thoughts, a surprise and transformation.
Talk: For the next two weeks or months, you should accept everything changeability, accept that things come and go in life, and be open for any new situation.
Affirmation: I follow the changes around me. I accept that the only constant is change. Change enriches me. I confidently indulge in the changes.
Tarot of Marseille
Fournier

Italiensk tarotsæt
Lo Scarabeo