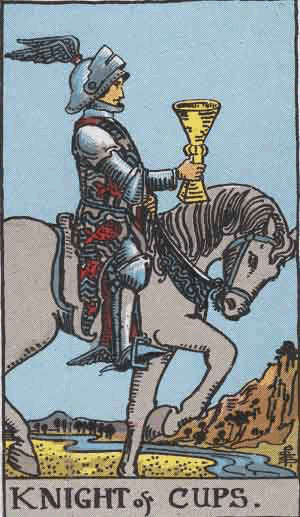 KNIGHT OF CUPS
Description: The night of the Cup shows a proud knight on his horse. He is wearing armor and clothing with fish embroidered on. – the symbol of the moving astrological watermark. Pisces signifies romance and idealism in love. The knight holds a cup in his hand, as if to offer it or hand it out to others.
The card indicates a determination and that a decision has been made. The Knight of the Cup indicates idealism, strong passions and refers to the fact that he is confident in his decision, and therefore also leaves all old uncertainty behind. The Knight of the Cups is also ready to attack should the need arise. The wings of the knight's helmet indicate the potential for spiritual liberation.
Interpretation: The Knight of the Cups symbolizes emotional passion, desires and feelings that are deeply expressed. The Knight of the Cup is a poetic dreamer and stands for the super-romantic, but he also stands for the one who loves affectionately and with all his heart. In this way, the map shows something about love being the driving force that drives you forward – but not in such a way that you can not let go of what you long for, should it be necessary.
The Knight of the Cup indicates that concepts such as perfection, idealism and romance color your world in some way. When you draw this card, it is a sign that you have a great deal of passion and a desire to express these feelings sincerely. You must acknowledge your desires and your desires so that you can exploit and master them. But at the same time it is necessary to say no or reject something if it should prove necessary.
Other words that will be able to describe the Knight of the Cups are: demands, desires, desires, the diplomat, the believer, invitation, foresight and romance.
Astrology: The map is associated with the sign Scorpio – known for its emotional passion and longing.
Affirmation: I express myself clearly. I assert myself. I am ready to act on what I believe in.