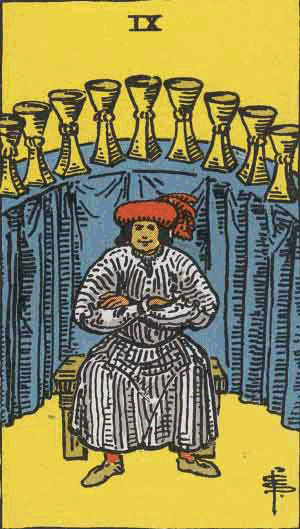 9 CUPS
Description: Nine Cups shows a powerful white-clad man sitting with folded arms on a stool. Around him stand the nine goblets placed on a semicircle table. It seems that these are some he has collected.
He smiles complacently and is happy because he has many wonderful things around him. He has won accolades and has a lot to offer overall. He is confident but at the same time inactive about the situation. The map indicates satisfaction, enjoyment and joy on all sensory levels.
Interpretation: Nine Cups symbolize happiness and tell that you have yours on the dry. You have what you need – and maybe a little more when it comes to health, finances, work or relationships. You lack nothing, so you have good reason to be satisfied. Use this mode to ask yourself where and / or with whom you find your true joy.
And remember to enjoy the state of things. The moment is filled with happiness, deep joy and overflowing love, if you will just accept. One can also consider the card as a kind of wish card, where a cup or wish can now be realized.
Other words that will be able to describe the Nine Cups are: joy, emotional and material satisfaction, emotional fulfillment, victory, sensuality, self-satisfaction, tendency to arrogance, reunion, physical well-being and satisfaction.
Numbers: Over the next nine weeks or months, you will have the opportunity to experience growth in the emotional realm because you have the basic experience of contentment and happiness.
Astrology: Jupiter in Pisces. Opportunities, growth and luck (Jupiter) come to you evenly flowing and abundant quantities (Pisces).
Affirmation: Joy is my natural state. I am happy. I'm blessed. I enjoy my situation. I enjoy the moment. I enjoy my wealth.