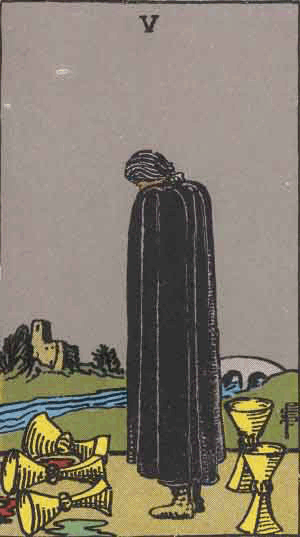 5 CUPS
Description: Five Cups depicts a dark figure standing in a landscape, shrouded in a long black cloak. He considers three overturned cups, which symbolize a loss or disappointment that is hard to bear.
Behind him are two cups that still stand upright – showing that not everything is lost, they represent the positive side of the situation – but the ones we could only spot if he turned around. Some distance from him is a bridge leading over to a building. If he confronts his problems and his current situation, he will be able to walk across the bridge and into the future. As long as he passively mourns, he will be cut off from seeing new opportunities and change.
Interpretation: Five Cups stands for disappointment, disappointed expectations, lost balance, unexpected disruption, or a problematic relationship. Either your high expectations were not met, or there is a fear of being disappointed.
It is important to look positively at what can be learned from the situation. If the disappointment has been experienced in the past, it is probably five years ago, and when you draw the card, it indicates a determination to unleash this disappointment within the next five weeks to five months. The card indicates that it is a difficult time, but at the same time that there is hope for the future.
Other words that characterize Five Cups are: uncertainty, disappointment, disappointed expectations, lost balance, regret, problematic relationships, an overheard inner voice, annoyances over events in the past, grief, melancholy, separation and loss.
Numbers: In the next five weeks or months, it's going to be a good time for you to put away old disappointments.
Astrology: Mars in Scorpio. You are facing a strong disappointment (Mars) that is rooted in something deep inside you (Scorpio).
Affirmation: I see my reality, through the illusions I have created. I choose to see opportunities. I am ready for change.