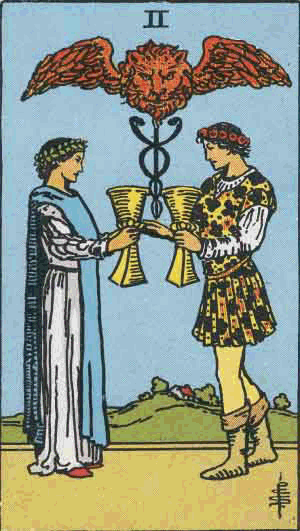 TWO CUPS
Description: Two Cups stands for love and indicates that the more you love yourself, the more attractive you seem to others. To a certain extent of course! The more receptive and confident you behave towards yourself, the more open, receptive and affectionate you can be towards your partner.
The card shows two lovers facing each other, each holding a cup in their hand.
Two Cups symbolize the conclusion or commitment of a partnership or a relationship. This indicates that there is an existing partnership that should be given time and energy.
The two people approaching each other symbolize the beginning of love and friendship – a fusion of two energies – and something third occurs in the form of a winged lion's head hovering over their heads, including two snakes winding around a staff.
This lion's head represents the new, which is bigger and stronger than the two people were together. The house behind the hills in the background refers to the potential that is to build something new together.
Interpretation: To Bægre indicates that it is time for cooperation and compromise in a relationship. And this is whether it is a love affair, a more platonic friendship or partnership. Competition or quarrels should cease and be replaced by a reconciliation on which a new platform can be built, and from which one can work further or take one's relationship to a new level.
Such a situation would be ideal for exchanging thoughts, ideas and setting common goals and visions. When you draw this card, it is a sign that you have a great love for another human being or for some form of creativity. It is time you fully experience and open yourself up to this love.
Other words that characterize Two Cups are: friendship, partnership, reconciliation of opposites, fusion, inspirational love, beginning of love, mutual interest, exchange of loving energy and emotions and unconditionally devoted to partner.
Numbers: For the next two weeks or months, you will experience joy in sharing your love and care with others. You will feel an inner harmony and meaning by giving and receiving love.
Astrology: Venus in Cancer. You will be able to unite love and creative forces (Venus) by caring and providing support, including in the family and at home (Cancer).
Affirmation: I am now ready to let the perfect love relationship be revealed to me. I enjoy my love affair. I am aware of the love that is coming to me now from others. I am ready for new love relationships. I indulge in love and life.